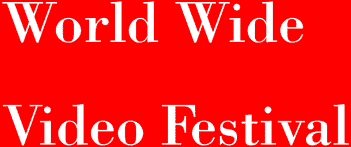 17th World Wide Video Festival
Screenings/Performances: 15 untill 20.09.99 - Exhibitions: untill 11.10.99


| | |
| --- | --- |
| | The festival program will highlight the collaboration between artists from different disciplines. Currently the wide use of sampling - images as well as sounds - deserves particular attention. A project about the possibilities of interaction between visual artists and musicians resulted this year in the presentation of Flash, which exists of 9 DVD productions, and performances by, for example: Jeroen 'Eboman' Hofs (NLD), Jenny Marketou (USA), Alex Vermeulen (NLD) & David Shea (USA) and Angela Melitopoulos (DEU). The festival locations are open to all participants, visitors and press of the 17th World Wide Video Festival. During the day the Stedelijk Museum will be the meeting point, and during the evening the Melkweg café and restaurant will be the place to be. This year again a large number of artists and speakers at the seminar are invited as festival guests. In addition some two hundred other guests are expected to arrive. |

| | |
| --- | --- |
| | A state of the art show with some 70 new productions from some 25 countries including, besides the Western countries, Argentina, Australia, Brasil, Estonia, Japan, Lebanon, Macedonia, Poland, Slovenia, Turkey and South Africa on: |



At the Stedelijk Museum a CD-ROM/website Gallery will daily show CD-ROMs from different artists, among them Zoe Beloff (USA), Kiko Goifman (BRA), Hooykaas & Stansfield (NLD). Artists' Projects for the Web is an initiative from the Dia Centre for the Arts from New York, websites recently produced by American artists: Francis Al s - The Thief, A. Herrera - Almost Home, Diller & Scofidio -Refresh, K. Lucas - Between a Rock & a Hard Drive.

The Gate Foundation presents the Internet conference On(e)Line, wich will focus on the discussion about globalisation en regionalisation within the fields of art and culture, with participants from Zimbabwe, South Africa, Indonesia, Costa Rica, the United Kingdom and the Netherlands.

(surf.to/on(e)line)



| | |
| --- | --- |
| | Which consists of nine international interdisciplinary DVD productions, called Flash, were made in a special collaboration between visual artists and contemporary composers. Their exchange of ideas in image and music will have its world premiŔre at this festival. Flash has been co-produced by Bifrons Foundation Amsterdam and BALTIC Glasgow for: Mara Biava (ITA) & Roderik de Man (NLD), Ansuya Blom (NLD) & Paul Termos (NLD), Ger van Elk (NLD) & Maarten Altena (NLD), Jaap Kroneman (NLD) & Chiel Meyering (NLD), Annette Messager (FRA) & Maarten van Norden (NLD), Henk Peeters (NLD) & Eric Calmes (ANT), Liza-May Post (NLD) & Vodershow (GBR), Jean-Claude Ruggirello (FRA) & Martijn Padding (NLD), Marijke van Warmerdam (NLD) & Louis Andriessen (NLD). |


Installations which the Festival presents are various video and media installations at the following places: at the Stedelijk Museum (7 works), the Melkweg (4), W139 (4), MonteVideo/TBA (3) and at De Veemvloer (1). Some highlights are:

Andy Warhol with Outer and Inner Space (1965, 16mm/video, 33 minutes, double screen) marks Warhol's brilliant interpretation of the gap between the private self and the public image, and explores the serial imagery of his paintings. Furthermore, it shows a historical connection to a number of selected contemporary works.

Irony, cynicism, voyeurism play akey part in the work of a.o.: A.P. Komen/Karen Murphy (NLD) Love Bites, Zeina Maasri (LBN) Off-Side, Lena Mattson (SWE) The Secret Room, Paolo Ravalico Scerri (ITA) Ti ricorde un tempo. In similar images and set-up as used by Warhol they show on single large screen projections or on synchronic double-screen seemingly everyday scenes with image and/or sound of the current 'reality'. A reality that no longer can be romantically classified.

Michal Rovner (ISR). This Israeli artist has been invited by the festival to make a new work for the ground floor of the New Wing of the Stedelijk Museum. She also had a presentation at the 1996 festival. After sundown the work will be visible from outside the museum.

Ebru Ízsešen (TUR) shows The Bitter Chocolate Love . On 36 monitors random images of the process of making pastry forms are shown. By blowing up the details and recreating images there is another relation between the movement and the form. The pictures Ízsešen shows are a kind of in between, an intermediary between a form and our own interior.

Jean-Luc Vilmouth (FRA) turns a gallery space into an atmospherically lighted bar. Visitors are invited by his Bar SÚduire to sit down at the tables and meet a virtual table-companion.

Ursula Hodel (CHE) presents eight works at the festival, constituting her first large exhibition. Hodel's work is very autobiographical. Her private 'performances' are characterized by pleasure and surrender, desire and fantasies.

Interactivity is the common denominator of three installations presented at Montevideo/TBA. In Kirsten Geisler's (NLD) 'Virtual Beauty ľ Dream of Beauty 2.0' the visitor can enter into a dialogue with the virtual beauty. With 'Panoramic Acceleration' Marnix de Nijs (NLD) created an 'experience machine'. The visitor is seated in a chair on a rotating arm and watches a video projection on an also rotating screen. He or she can determine the speed of rotation with a joystick. Speed and its perception is very characteristic of De Nijs' work. The installation 'Peary' by Tobias Schalken (NLD) and Stefan van Dinther (NLD) also takes interactivity as its starting point. Here the visitor is confronted with a virtual 'other'.



| | |
| --- | --- |
| | Performances are part of the festival programme on Thursday, Friday and Saturday at the Melkweg, and on the opening night at the Stedelijk Museum. Performing artists will be, among others Wiggle (JPN/AUS/USA), a virtual band. Four musicians who are physically in different continents are at the heart of wiggle. Now, assisted by a VJ-team they will present a digital live set which will incorporate input from the Internet. Sample artist Jeroen 'Eboman' Hofs (NLD) mixes film, video and sound samples into a composition for three large screens. The story line has basically been set, but he improvises on the spot. Angela Melitopoulos (GER) has worked for four years on her latest production 'Passing Drama' which will be presented for the very first time at the festival. In her story the word 'drama' is essential and takes on all of its possible meanings: scene, narrative and tragedy. She will perform the text of the video live, assisted by Winny Matthias who will create a quadraphonic soundscape. Other performances are by George Snow (GBR), Jenny Marketou (USA), Alex Vermeulen (NLD) with David Shea (USA) and by Micha Klein (NLD). |


The local television station Bellissima is devoting special broadcasts to new media art. Bellissima is reporting (live) from the Melkweg on the 17th festival with: a report of the opening of the festival from the Stedelijk Museum. With a special attention for the installation of Michal Rovner and the production of the websites by the DIA Centre for the Arts. Besides that a report about the installations at the Veemvloer, W139, MonteVideo/TBA , and the performance of Jeroen (Eboman) Hofs, the presentation of Wiggle, the Seminar and interviews with artists.

(www.bellissima.net)

Continue >>>