THURSDAY MAY 22: red
Scanner, Label Night Invasion Planete: Le Syndicat Electronique, IT & My Computer, Porn.Darsteller, Rollinka, DonLeo

FRIDAY MAY 23: green
TLR, Orgue Electronique, Kassen, Legowelt, Monkeyshop, Solvent/Lowfish, Meso, DJ Raphael, Driessens & Verstappen, Hassan Khan, Serhat Köksal, SmashTV, Ellen Allien, Pfadfinderei

SATURDAY MAY 24: blue
Barkode, Vive la Fête, VJK, Terry Toner, DJ Dion, Station Rose - Playing Field, Arno Coenen vs Transformer di Roboter, Burnt Friedmann & Nu Dub Players, Michal Butink
---
About RGB
World Wide Video Festival and Melkweg in collaboration with ElectroNation and Netherlands Media Art Institute present RGB - VJ/DJ Festival at Melkweg, Amsterdam, Thursday 22 May - Saturday 24 May.

RGB presents state-of-the-art visuals vs. hardcore experiments featuring international pioneers of electronic music and video. It's three days of musical and visual reflections on the ever evolving electronic scene, from analog purism through italo disco to electro rock, intertwined with groundbreaking video atmospheres, from 8-bit minimalism to technological overload.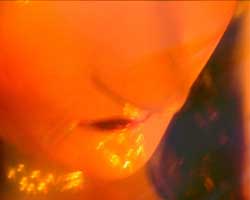 THURSDAY 22 MAY: red
Scanner UK
The résumé of the pioneering English artist, musician and writer Robin Rimbaud reads like a history of contemporary electronic music and performance culture. "He is very experimental because he is searching in a realm of sound which is not usually used for music... he has a good sense of atmosphere." Karlheinz Stockhausen on Scanner, BBC Radio 3.


www.dfuse.com/scanner
DonLeo / Invasion Planete Netherlands / France
DonLeo is Leonard van Munster, a young artist who works across a range of different media. He was formerly part of the famous DEPT collective (1996-2001). Van Munster produces installations, media works, graphic design, web works, video performances and recently styled an imaginary TV station for the most innovative Dutch national public broadcast organisation VPRO.


www.donleo.org


www.solo-para-adultos.com
The French electronic purists of the Invasion Planete label present four hours of sexy, minimal electro with: Le Syndicat Electronique, IT & My Computer, and Porn.Darsteller. The releases of Invasion Planete have been called the equivalent of Godard's films from the 1960s.


www.invasionplanete.com

FRIDAY 23 MAY: green
Hassan Khan Egypte
Tabla Dubb is an attempt at fashioning public media using the basic elements of popular musical culture. Khan Connects the music to a library of video images that arise out of an engagement with the city and its sociography.


www.hassankhan.com
2/5 BZ (Serhat Köksal) Turky
2/5 BZ was founded in Istanbul in 1986 by Serhat Köksal. He produces films, videos, audio-tapes, photocopyzines, stickers, CD-ROM's, posters and makes live shows. In his performances he uses samplers and electronics as well as traditional (acoustic) instruments like saz, darbouka, drums, vocals and spoken word. Seventies Turkish cinema, music, literature, and experimental electronic music influence his style. 2/5 BZ toured through Europe with "no turis-tic no egzotik electro folk cut" and composed music for international experimental films from Germany, Iran and Switzerland.


www.2-5bz.com

Electronic Universe Netherlands/Canada/Sweden/Germany
A journey through the electronic universe, including Canada's Solvent and Lowfish, Sweden's Monkeyshop and Dutch Orgue Electronique, Legowelt and Kassen. It's a single performance featuring all artists connected to one sound mixer, DJ'ed and conducted by 'Master of the Electronic Universe' - TLR (NL). Accompanied by multiple video screens and spectacular lights and visuals. Followed by a late set from Belgium's infamous DJ Rafael to round out the journey. You can not afford to miss this once-only collaborative event.


www.meso.net
TLR:

www.globaldarkness.com
Legowelt:

www.xs4all.nl/~awolfe
Legowelt:

www.lobo.cx

Driessens & Verstappen
Driessens & Verstappen's visual performance will be centered around their SonicScope software. Sonicscope is a programme that generates dynamic visualizations from sound input in real time: you see what you hear. Because of the strong coupling of input and output one can experience a natural unity of sound and vision.


www.xs4all.nl/~notnot
Pfadfinderei / Smash TV / Ellen Allien Germany
Three acts from the groundbreaking Bpitchcontrol label from Berlin. The concept of Bpitchcontrol is to provide an independant mouth-piece for young artists.
Pfadfinderei is one of the most highly acclaimed VJ crews in Germany. At their beginning, instead of gnawing on the slow memory capacity of their pre 21st century computers, they transformed them into vector-ridden graphic style video beasts. They have created a unique style with their mixture of graphic design, video, print, VJ-ing and more.
"SmashTV's music is a tight variety of electro - electech. It bears the sign of the new millennium, transformed into 8-bit pixel optics, and hints to their B-Boy roots. While listening you move between digital abstract sounds, vocoder sounds and oldschool references as electrified as the interface." (www.echolocation.fm)
Ellen Allien's owns Bpitchcontrol and is famous for her hypnotic sequences and strange slow beats.


www.pfadfinderei.com


www.bpitchcontrol.de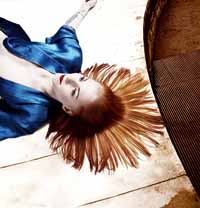 ZATERDAG 24 MEI: blue
Station Rose - Playing Field
Station Rose see their multimedia art as a new development succeeding techno, where the artist/musician not only creates music, but also works with various other forms of audio-visual content. Their audio-visual jam sessions, which begin as a flow on workstations connected through MIDI, are streamed live on the internet. During these webcasts they improvise in real time on patterns and structures developed earlier in the studio.


www.stationrose.com
Arno Coenen & Transformer di Roboter
Netherlands & Germany
The irony and social criticism of Coenen's 3D-animations with music by the German laptop trashmetal band - 'Why make crappy new songs when there are great old ones?'. The general idea behind the music of Transformer di Roboter is bootleging. The two-man formation is fascinated by how interchangeable contents and concepts in pop culture really are. Original Transformer tracks are disguised as cover-songs and vice versa. They love to play live and think that it's best not to get all too theoretical about things.


www.solidrocketboosters.com


www.transformerdiroboter.com

Barkode feat Eelco Netherlands
Barkode develop projects on the borders of media, club, design and art. They were actually one of the first VJ crews to experiment with all encompassing club concepts which include visuals, music, performers and even scents. At RGB Barkode presents a new show of two hours, slowly building up the atmosphere with a soundscape and visuals.


www.barkode.nl

VJK / Vive la Fête Netherlands / Belgium
An unusual combination of VJK's slick pop images and the electro-rock by Vive la Fête.
VJK is Kaoru Yamamoto. Her powerful, pumping, and dynamic motifs are strongly reminiscent of images from Japanese popular culture. These kaleidoscopic and slick renditions of stylized fantasty creatures, cartoon characters, and various shiny and sparkling objects associated with a luxury and wealth move, bounce, and twirl happily across the screen.
Vive la fête vowed allegiance to sleazy glamour, cheeky humour and anything-goes optimism. They made a kind of music that blended the least expected influences and genres into a unique new sound. Danny Mommens displayes his love for eighties synth pop, melancholic cold wave and back-to-basics electronica, while Els Pynoo juxtaposes his sparse and rhythmic soundscapes with cooing, breathy vocals and self-penned lyrics, written in French, her way of paying tribute to her heroes. Vive la fête's breakthrough came in spring 2002, when Karl Lagerfeld invited them to play at a live set during the Paris presentation of his Chanel collection.
VJK:

www.kyas.com


www.vivelafete.be
VJ Michal Butink / Burnt Friedmann & Nu Dub Players feat. Jaki Liebezeit Netherlands / Germany
Michal Butink refers to her work as 'moving photography'. In her VJ performances she concentrates on ambiance, rhythm and the experience itself. Interaction with the audience makes her work spontaneous and intuitive. She 'moves' the public with travel images mixed with confronting pictures of everyday scenes. Burnt Friedmann is one of Germany's most respected electronic artists. He plays abstract crackling funk.