Edgar Pêra (1960) is one of the most important and original representatives of the current generation of Portuguese experimental filmers. His work, however, has hardly been shown outside Portugal. Pêra's recent and varied work consists of documentaries, and short and long film and video productions. World Wide presents a retrospective of his work with six films, including the world première of the film Guittarra com pessoas la dentro and a live performance.
Pêra's work has both political and philosophical dimensions. A number of his films relate to Portugal's recent history and the democratization process. In the film Eight-Eight (2002) for instance the central figure investigates the Portuguese neofascist scene. Arbeit Macht Frei? (1992) treats the question of whether work truly is liberating. Who is the master who makes the grass green? (1996), named after a famous Zen koan, is based on the ideas of the writer/futurist Robert Anton Wilson. In this short film Pêra tries to answer the question of how people perceive reality. Is reality a construct of the mind? A blurring of the border between fiction and reality, between dreaming and being awake is often present in Pêra's work.
Pêra treats his subjects with considerable humour, which sometimes even borders on slapstick. Serious and farcical scenes often alternate. His imagery refers to old silent films and Russian and German prewar cinema. Pêra's films are personal, critical, imbued with irony and satire, but are primarily poetical and expressive.
Biography
Pêra was born in Lisbon on 19 November 1960. In 1981 he was studying Psychology, but switched to Film at the Lisbon Academy. After graduating in 1984 Pêra started working in the film industry in several capacities, including those of producer, editor and screenwriter. Since 1990 he has directed a number of short and feature films.






Where and when?
Pêra will be present during his exhibition and is giving a talk on Saturday 12 June and Wednesday 16 June in the auditorium.

12 June 2004, 20.00


Screening / Meet-the-Artist:


Edgar Pêra


reservations


Programme 1
Who is the Master Who makes the Grass Green?
· Portugal 1996, 7'
A cine-dialog exposing Robert Anton Wilson's ideas about the reality tunnel.
Arbeit Macht Frei?
· Portugal 1992, 23'
Originally made for Franco-German TV channel ARTE, here are the answers given by different Portuguese personalities to this provocative question.
The City of Cassiano
· Portugal 1991, 23'
A film about the controversial Portuguese modernist architect Cassiano Branco.
Komedia Off: Cine-Muzikal Koreography
· Portugal 2000, 13'

Guittarra com Gente la Dentro World Wide Remix
· Portugal (2004) 13'
Another film of the great Southwestern saga in which Pêra brings together the western and fado. Pêra mixes the voice of the famous Portuguese guitar player Carlos Paredes addressing his audience in 1984, with the music of Tó Trips' Dead Combo.

12 June 2004, 22.00


Live Events / RGB


Edgar Pêra


reservations



Südwestern
· Performance 2004
The world première of his cineconcert Südwestern, a live performance with three musicians from the band Dead Combo. The performance is based on his latest video Guitarra Com pessoas la dentro. With: Edgar Pêra, Pedro Gonçalves (bass), Carla Bolito (performer), Johnny Gomez (VJ, performer).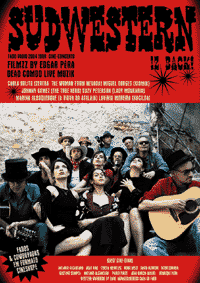 16 June 2004, 16.00


Screening / Meet-the-Artist:


Edgar Pêra


reservations


Programme 2
Who is the Master Who makes the Grass Green?
· Portugal 1996, 7'
A cine-dialog exposing Robert Anton Wilson's ideas about the reality tunnel.
Manual of Evazion LX97 (Remix)
· Portugal (1997) 59'
A trans-temporal investigation of time with interventions by the Californian writers alternative-thinkers Terence McKenna (Dok Shaman), Rudy Rucker (Cybermagus), and Robert Anton Wilson (Neuroh-Investigator).

19 June 2004, 16.00


World Wide Football: Screening:


És A Nossa Fé



Extra
És A Nossa Fé a film about Soccer (Futebol) Fans. Specially from two Portuguese clubs: Sporting, a big one, and Leixões a small one, that were slected for the final of the Portugal's Cup 2002 (David against Goliath), and also the adepts of the Portuguese selection that were defetead during the World Championnship 2002.
És A Nossa Fé is a ludic cine-reflection about the messianic relationship of the masses with the game. It's not a film about fanatics it's about believers...
It's also film about emotions and colors (green and red separated on the begining of the film, green and red together for the final defeat - the fado of Portuguese people).