Kurt d'Haeseleer (1974) is a young, talented Belgian artist, who for the past few years, has been associated with the Brussels collective De Filmfabriek, where he regularly does the videography for multimedia theatre and dance projects. His finished work, based on state of the art digital montage and production techniques, by far exceeds the technology he applies. The power of his work is in the wonderful, organic and associative images he creates from seemingly everyday shots. Like a digital alchemist, he gives life to the bare pixel material and sets off a flow of images.
World Wide demonstrates the range of d'Haeseleers work with a videotape, two installations and a performance. Lullaby (2003) is a performance/installation about the grey area in-between being awake and sleeping, with visuals by Kurt d'Haeseleer, live text projections by Wies Hermans and music by Tuk. The visitor enters and takes a seat in a small tent, requests a Lullaby and is given the full treatment. The tent is used as a projection screen which creates a shadow-show for the public.
S*CKMYP (2004) is an experimental 'lounge film' for four projection screens based on a text by the Belgian poet Peter Verhelst. S*CKMYP hypnotizes the audience with a universe of digital images and sounds. The installation's circular architecture, the flow of spoken text and the endlessly transforming images create a sense of suspended time. Köhn's electronic music, a project of the Belgian composer Jurgen Deblonde, creates a probing soundscape in which the hypnotizing voice of Verhelst resounds like a mantra. Image and sound create an audiovisual vortex that submerges the spectator in a feverish digitalized dream.
In addition, his videofilm

File (2002) is being screened in the Project Room and he is giving a concert with his laptop band, complete with visuals.





Where and when?
S*CKMYP can be seen daily from 11.00 to 24.00 on the 8th floor throughout the festival.

Lullaby can be seen on Thursday 10 June from 20.00 - 23.00, Friday 11 June from 14.00 - 17.00 and Saturday 12 June from 20.00 - 23.00: entrance hall on the 11th floor.

File is screening on 11 June in the

Project Room.

11 June 2004, 22.00


Live Events / RGB


Kurt d'Haeseleer


reservations



Together with composer Tuk, Kurt díHaeseleer mixes and transforms his images into a cosmic firmament. A fascinating look into the digital mortars and bowls of a visual alchemist. Kurt d'Haeseleer's concert is in the Auditorium.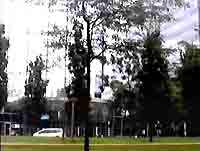 File, videotape, 2002